Smart Trips Resources
If you're new to Smart Trips, begin by paying close attention to all the trips you make during the week. Notice the trips you already make on foot, by bicycle, ridesharing or on the bus. Give yourself some credit for the Smart Trips that you already make!
Being aware of the Smart Trips you're already making will help you see other opportunities for reducing your drive-alone trips. Once you know where you want to begin, the following programs and resources might be helpful to you.
Emergency Ride Home
Maps
Contact us or call 756-TRIP for paper copies.
Walking
Bicycling
Many people have great memories of bicycling with friends when they were young. But a bicycle is also a convenient way for people of all ages to make short trips around town. The maps and brochures listed below, as well as our videos and bicycle education programs, will help you ride safely and confidently.
Sharing a Ride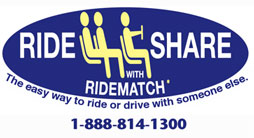 Riding the bus
Resources for Children